Irvine New Construction Homes Built in 2021
Posted by Sam Smith on Tuesday, January 26th, 2021 at 12:48pm.
One of the best places to find some of the largest inventory of new construction homes being built in 2021 can found in the city of Irvine.  There are always seems to be some neighborhood or a new development being developed in Irvine that allows home buyers to buy a brand new home direct from the home builder.  Because the demand for these types of homes has not gone down in recent years home builders continue to produce some really nice homes that are available for sale.  We did a quick search and currently have found 30 properties that are on the market for sale with home construction to be completed in 2021.  If you are thinking about purchasing a new home this is a really great time with low interest rates and a lot of great options.
Probably one of the best places to find new construction homes right now in Irvine is the Great Park area.  There are still a large number of homes being built here with very attractive real estate prices.  Neighborhoods like Novel Park offer several homes due to be completed in 2021.  Pulte homes are also building homes in the Duet and Apex neighborhood slated for completion this year as well.  Lennar home builder is also building homes in Great Park with new homes located in the Crescendo at Cadence Park neighborhood.
One of the newest condo developments is called Modern Designed Living (MDL) in Irvine and currently features six different model floor plans to tour. The location is really ideal for the working professional which is located near the Irvine Business complex near the intersection of McArthur Blvd and Main Street and a short distance to the 405 freeway. If you are familiar with this area then you will love the close proximity to the John Wayne Airport.  There have been a number of sales that have already occurred here with currently real estate prices ranging from $604,880 to $928,967 and is private gated neighborhood. 
KB Homes is building brand new condos in the Paseo Del Mar community which are to be completed in 2021 with real estate prices starting at $792,880 according to the company's website.  Other brand new condos can be found in the Carissa neighborhood in Portola Springs that offers very attractive price points.   We found a two bedroom condo there currently listed at $618,545 which is a really great price point for the area.  The Cypress Village community has been around for many years but they still continue to build homes here.  A great example of this is the Tristania neighborhood large residential townhomes being built here in 2021.
For those looking for luxury homes then make sure to check out the Orchard Hills area.  Irvine Pacific is building new homes in the Vivo neighborhood with expected completion later this month.  KB Homes is also building here so make sure to visit the Genoa neighborhood here for beautiful two story luxury homes.  We have gathered the current list of Irvine properties on the market right now that will be built in 2021.  Please reach out to any of our Irvine Real Estate agents at 949-988-0605 to schedule a tour.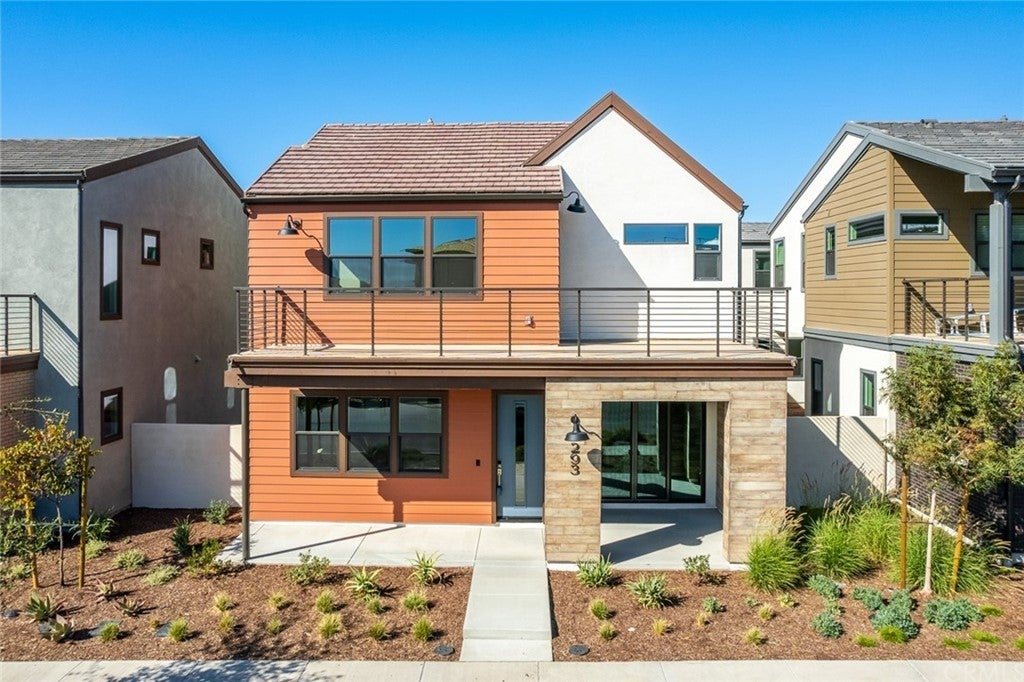 MLS® #: OC21228650
293 Sawbuck
Irvine, CA 92618
$1,755,000
5 Bed, 5 Bath, 3226 SqFt, 0.09 Acres
Residential
Add as Favorite
MLS® #: NP21231710
166 Placemark
Irvine, CA 92614
$1,295,000
4 Bed, 4 Bath, 2206 SqFt, 0.05 Acres
Residential
Add as Favorite
MLS® #: OC21227995
141 Spectacle
Irvine, CA 92618
$1,218,000
4 Bed, 3 Bath, 2430 SqFt, 0.07 Acres
Residential
Add as Favorite
Leave a Comment